Return / Refund Policy
Our Promise
Here at My Shop Coffee we appreciate your business. We guarantee customer satisfaction. We offer a 100% refund of the product total to our customers that are unhappy with any of our products when the following guidelines are applied. 
Refund Requirements
When requesting a refund or an exchange, we require customers to ship back at least 80% of the original order of opened product to: My Shop Coffee 8725 Ariva Court  # 634, San Diego CA. 92123. Any unopened product will also need to be sent in for a refund or exchange. If you are unsure of what 80% of your product is, please see table below. Upon receipt of the product we will review the request and issue credit/exchange for the prior purchase. You must make contact with Customer Service with-in 15 days upon the delivery and the product must be received back in our warehouse within 30 days from the delivery date.

1 LB BAG:
Must return at least 12oz.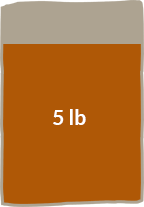 5 LB BAG:
Must return at least 4.0 lbs.
*If you do not return any product, you will not receive any refund or be able to exchange the product.
* There may be a 15% restocking fee for Jamaica Blue Mountain Estate or Hawaii Kona Estate coffees and will be applied at My Shop Coffee`s discretion on a case by case basis.
Get RMA Information
If you need to send a product back to us for credit or exchange, please call our Customer Service Department at 714-801-6759 or email our Returns Specialist, and get an RMA number first. An RMA number allows us to recognize your return when it comes in and allows an easy process for credit or exchange. We do not honor returned product without an assigned RMA number.
You can also email us at Myshopcoffee@outlook.com
* Any product returned to My Shop Coffee without an RMA number will not be recognized, and in turn will be denied any credit or exchange. 
Exchanges
If you are unhappy with anything that you receive from My Shop Coffee or wish to exchange for merchandise of equal value, we are happy to exchange it for you. Exchange items will be shipped once the original item has been received and inspected. (To find how much coffee needs to be returned for an exchange, please see the Refund Requirements above).

For immediate exchanges, please call our Customer Service Department for assistance at 714-801-6759. The customer is responsible for all shipping costs and will be charged accordingly. All returned items will be inspected for damage and charges will be accessed before a new item is sent. My Shop Coffee is not responsible for damage during shipping.

In the event you receive damaged product, call our Customer Service Department with 24-48 hours of arrival. Failure to contact Customer Service within this time frame will void any claim.
Shipping Cost
Shipping costs are non-refundable. Shipping is part of the transaction, not the product. If the product is defective or damaged, we will refund the original shipping charge and send you a new product. If a product is exchanged or returned for credit, then the customer is responsible for the return shipping costs, reshipping costs, and any damaged incurred on the way to My Shop Coffee. All shipments will be made via FedEx Ground. Customers are responsible for upgrades to FedEx Next-Day Air, 2ND Day Air, or 3RD Day Select.